Volga River Cruise
with Oberammergau Passion Play
16 day cruise/tour - August 7, 2022
Information
The Volga River is a trip that should be high on your bucket list!
Finding the right ship that we wanted for our group to do the Volga River was easy, getting them to let us take over the whole ship and allow us to do our own itinerary was not as easy. It has taken years to get what we wanted and to create this special tour. In addition to the many stops on the Volga River, we have added visits to St. Petersburg, Moscow, Munich, and the Oberammergau Passion Play. Even if you have been to Moscow or St. Petersburg before, both of these great cities are worth visiting again. There will be 2 full days of touring in St. Petersburg, 2 full days touring in Moscow, 8 days on the Volga River Cruise, and 3 full days in Germany that will include, touring, and attending the Oberammergau Passion Play.
Everything in Russia is 5-star luxury. We needed the BEST in hotels to go along with your 5-star Volga River Cruise Ship. We chose the Belmond Grand Hotel in St. Petersburg. The Belmond Grand is located in the center of St. Petersburg, the perfect location. We will stay in Moscow in either the Four Season Hotel or the Ritz Carlton Hotel, both are right next to Red Square – you can't get any better than this. We know Oberammergau has guaranteed that our groups will stay in 4 Star Deluxe Hotels while in the Oberammergau area for the Passion Play. There are few, if any, 5-star hotels in the Oberammergau area.
The owners of Fun For Less Tours went on the Volga River in August of 2017. They visited many ships while they were there. No other ship came close to the quality of the MS Volga Dream (our ship for 2022). The elegance of the ship was hands down better and far exceeded every ship they saw and the quality of food along with its presentation, far exceeded their expectations. We can say unequivocally, from our personal research, this is the best ship on the Volga!
The 5 star MS Volga Dream Cruise ship is a small luxurious boutique ship. Unlike the large ships doing the Volga River with hundreds of passengers, this special ship holds approximately 100 passengers. It is luxurious inside and it allows the passengers on any deck to walk around seeing all there is to see while cruising along the beautiful Volga River. This boutique ship is perfect for us, we were able to buy the whole ship and because of its small size, we will never feel crowded.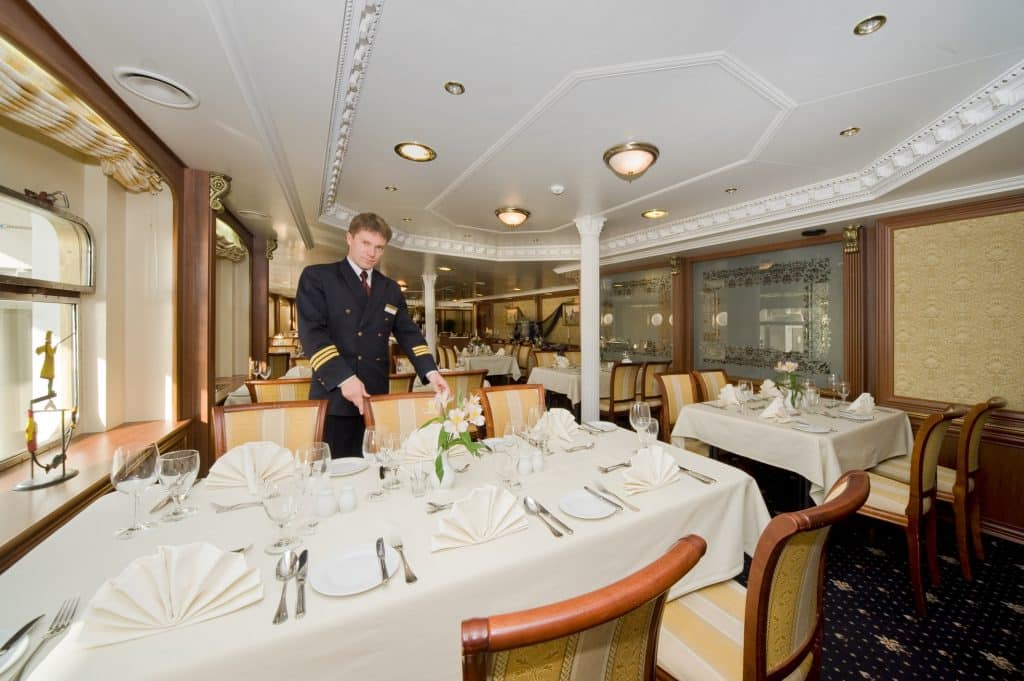 Pricing
Package Price Includes:
Our Fantastic 16 day Volga River Cruise & Tour Package:
What we have Included in the Volga River Cruise & Tour Package:
Germany and the Oberammergau Passion Play:

2 nights 4 Star Deluxe Hotel in Munich.
2 nights 4 Star Oberammergau Passion Play Hotel.
Priority seating in Category 1 for the Passion Play.
Breakfast and Dinner in Oberammergau.
Fun For Less Tours Staff.
All buses, tours, entrance fees and guides in Munich and Oberammergau.

Volga River Cruise:

Guest Educator in Russia: TBA
5-Star Luxury MS Volga Dream Cruise Ship inside cabin.
All Breakfasts, Lunches, and Dinners on the Cruise Ship.
All Shore excursions.
All transfers to and from the ship.
All taxes and port charges.

St. Petersburg, Russia:

Expected Hotel: 2 nights in The 5-Star Luxury Belmond Grand Hotel.
All tours, buses, guides and entrance fees.
Hermitage Museum.
All taxes and fees.
Breakfasts & Dinners.

Moscow, Russia:

Expected Hotel: 2 nights in the Ritz-Carlton (or similar) next to Red Square.
All tours, buses, guides and entrance fees.
All taxes and fees.
All Breakfasts and Dinners.
Package Price: $7,570
*
**Per person cash discount price, based on double occupancy.
Does not include international airfare, tips & visas.

Itinerary
The itinerary below is subject to change as needed at any time to accomplish everything we can in each area we visit. We will have local guides who will make sure we see the very best in the time we have.
Day 1: August 7: Fly to Munich
We depart our home and travel to Munich.
Day 2: August 8: Munich
After arriving into Munich we will do a city tour. Overnight Munich.
Day 3: August 9: Munich – Salzburg
This morning we will drive 2 hours to Salzburg, Austria. We will spend the time touring Salzburg. While in Salzburg you may feel as if you have slipped into "The Sound of Music." Late this afternoon we will drive back to Munich.
Day 4: August 10: Munich – Oberammergau
This morning we will travel into the German Alps. We plan, if possible, to visit Neuschwanstein Castle, which was the inspiration for Disney's "Sleeping Beauty Castle." Then we will go to Oberammergau where you will be able to have some free time to explore this quaint village. Later this afternoon we will check into our 4-star deluxe Passion Play Hotel. NOTE: Our Passion Play Hotels are in the Oberammergau area. They can be in the Oberammergau Village or other villages nearby. For those staying in the villages close by, from what we have been told, they will be running shuttle buses from the different villages to the Oberammergau Village and back.
Day 5: August 11: Oberammergau
This morning you can take one of the shuttle buses into Oberammergau. This afternoon will be the first half of the Passion Play. Then there will be a break for dinner, which is included. After, you will return for the second half of the Passion Play. Late this evening you will return back to your hotel.
Day 6: August 12: Munich – St. Petersburg
Today we will fly from Munich to St Petersburg. Upon arrival in St. Petersburg, we will transfer to the deluxe hotel Belmond Grand Hotel (expected hotel), located in the historic city center.
Day 7: August 13: St Petersburg
We will start our day with a tour of the Hermitage Museum. The Hermitage Museum is known for the 400 rooms containing spectacular examples of nearly all of the schools of Western art, including one of the greatest collections of French impressionist works. After we will do an orientation tour of St. Petersburg. We will also be doing a boat ride through the canals of St Petersburg.
Day 8: August 14: St Petersburg
This morning we will check out from your hotel and visit "Russia's Versailles", Peterhof Palace and its beautiful gardens.  Peter the Great drew inspiration for his imperial palace from France's Versailles Palace. Then we will return to St. Petersburg and visit Yusupov Palace. Later we will transfer to the luxurious MS Volga Dream and begin sailing along the Russian waterways.
Day 9: August 15: Svir River and the Village of Mandrogi
Today we will navigate the Svir River toward Lake Ladoga, Europe's largest freshwater lake, past a shoreline dotted with graceful willows, alder trees and stately pines. We will step ashore for a visit to the vacation village of Mandrogi to experience daily life in a quaint wooden village.
Day 10: August 16: Kizhi
The Karelia region, which spans the area from St. Petersburg to the Arctic Circle, is a vast wilderness of forest and water. Discover Lake Onega, fed by 58 rivers and home to 1,369 islands, including Kizhi. See a collection of ancient Russian wooden houses and windmills, and the famous Transfiguration Church, built in 1714 without a single nail.
Day 11: August 17: Goritsy
Today we cross Lake Beloye, or the White Lake, formerly known as the "Tsar's fishing grounds". After lunch, we arrive in the peaceful village of Goritsy to tour the fortress-like Kirillov-Belozersky Monastery with magnificent frescoes by one of Russia's most renowned icon painters. Return to the ship after a guided tour.
Day 12: August 18: Yaroslavl
Founded in 1010, Yaroslavl is one of the oldest cities in central Russia and the Volga's first port. In the Spassky Monastery, we see the Transfiguration of the Savior and admire the mosaics at the Church of Elijah the Prophet.
Day 13: August 19: Uglich
This morning we dock in the ancient trading town of Uglich, one of the spokes of Russia's renowned Golden Ring. Explore the impressive Church of St. Dmitry on the Blood, erected on the site where Dmitry, son of Ivan the Terrible, was murdered in 1591.
Day 14: August 20: Moscow
Mid-day we will arrive into Moscow where we will say goodbye to the MS Volga Dream. We will do a short city tour of Moscow. We will stop at the famous Izmailovsky market to give you time to buy some souvenirs. Then we will check-in at our five-star Ritz-Carlton or Four Seasons hotel in Moscow.
Day 15: August 21: Moscow
Today we will visit the Red Square, the Kremlin, and the Armory Museum to view its collection of opulent coronation finery, hand-forged armor and weapons, royal carriages and sleighs, and dazzling Faberge eggs. Later we will return to our hotel.
Day 16: August 22: Home
This morning checkout from your hotel and transfer to the airport for your flight.
---