Japan Cruise
with Vietnam, Hong Kong and South Korea
NOW or NEVER!
19 day tour - April 21, 2021
Information
We know, "now or never" seems a little harsh. Let us explain. It has been close to 10 years since we have offered a Japan Cruise. When it comes to Japan and the same could be said about Vietnam – we feel a short tour in either country is too far to go for a short 7-night cruise or tour. Then we found this itinerary offered by Royal Caribbean Cruise Line. With a little creativity with the cruise, we found we could create a fantastic cruise and tour that would take care of both Vietnam AND Japan. It also gave us a way of adding Seoul, Korea. It was only offered once in the spring of 2021. We jumped on it. A year later, when it finally came time to put the tour and cruise together, we went to the internet to work on the day by day, BUT could not find it on Royal Caribbean's web site. Even when we looked for it under the ship's itineraries, we couldn't find it. Being afraid they may have canceled the sailing, we called our contacts at Royal Caribbean. From what we can gather, it is not that it is not going, it's that there have been so many requests for cabins, they have removed it from their website. It looks like it may already be over sold out. We did find we still had our requested cabins for now. Usually, when something like this happens, they give travel companies a little time to sell their cabins that they have reserved before the cruise line takes back the unsold cabins.
The bottom line, we believe we are in that window of time. It may be years before we find the right way to do Japan or Vietnam again. That is why we have said NOW or NEVER. If you want to go, then you need to act now. The problem is, we don't know if we have two weeks, three weeks or until the middle of next year before they come after our unsold cabins. That is the problem, we really don't know.  This really is a fantastic package at a GREAT price.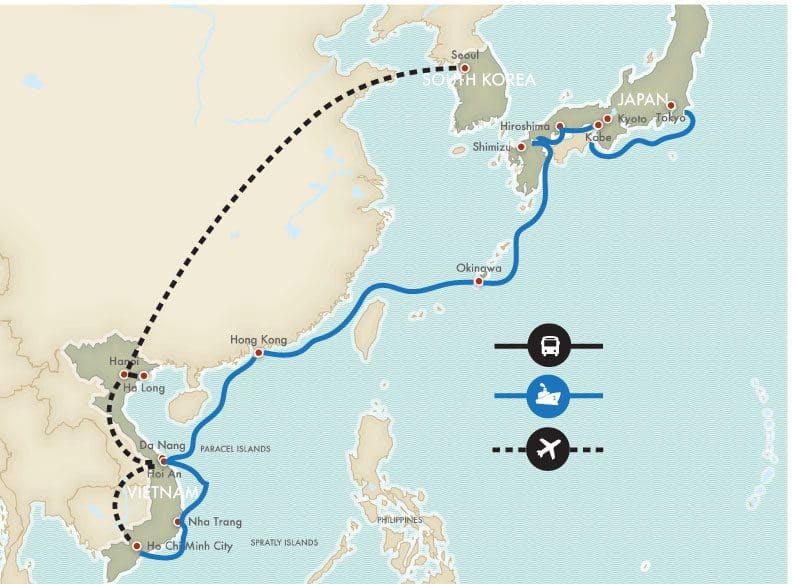 Six Stops in Vietnam and Six Stops in Japan with a touch of Seoul, Korea and Hong Kong thrown in. For years we have had passengers ask if we ever offered a trip to Japan and the same goes for Vietnam. Our rep at Royal Caribbean alerted us to a unique cruise that starts in Singapore, visits Vietnam and ends in Japan. As we closely looked at the itinerary, the light bulb went on. We could fill everyone's dream of Vietnam and Japan on the same cruise. It was simple. We will skip Singapore and board in Vietnam when the ship arrives. Visiting only Ho Chi Min is a good stop, but not the best that Vietnam has to offer. The very best of Vietnam is Hanoi, Halong Bay, Da Nang, Hoi An followed by Ho Chi Min. To go all the way to Vietnam and miss the best parts is a crime. We figured out how to do it all. Instead of going to Singapore, we are going to start in Vietnam, hit the best places to visit and then meet the ship at the first stop in Vietnam. By the time the ship arrives, you will have had the experience of a lifetime.
It is almost like this special cruise was designed specifically for us. It takes care of the parts of the world our normal tours leave off. Our tour of Thailand, Cambodia, and Myanmar is right next door to Vietnam, but there just isn't enough time to add an additional 5 days needed to truly experience Vietnam. The same can be said for Japan. It is right next door to our China tour, but again, there just isn't enough time to add the additional 5 or 6 days needed to experience Japan. This special cruise takes care of what we have been missing.
We are going to start in Hanoi, a wonderful city, even better than Ho Chi Min. From there it is out to Halong Bay. Halong Bay has stunning limestone pillars and tiny islets topped by forests that rise from the emerald waters of the bay. Halong Bay is a UNESCO World Heritage Site with over 1,600 limestone pillars and islands. It is also dotted with hundreds of limestone caves. On a scale of 1 to 10, this is an 11.
Then we will be off to Da Nang. Da Nang is not the real draw, it is the harbor town of Hoi An that is located nearby. Hoi An is a harbor town. It is an exceptionally well-preserved 15th to the 19th-century trading port. We will visit both before flying to Ho Chi Min for a city tour before boarding our ship.
We do have a stopover in Hong Kong before reaching Japan. Our six stops in Japan include Okinawa with its Shurijo Castle, a UNESCO World Heritage Site. Hiroshima and that fateful day in 1945 are on display, along with Hiroshima Castle. Our next stop in Japan is Kobe, home of the world-famous Kobe beef – possibly the most expensive beef in the world. Kyoto (Osaka) is our next stop. Osaka is home to over 1,600 Buddhist temples, 400 Shinto shrines, and 17 UNESCO World Heritage Sites. Our next stop is Shimizu, the gateway to Mount Fuji. Our cruise ends in Tokyo where we have added a hotel night, making sure you have time to tour Tokyo before heading home.
Pricing
Package Price Includes:
This package gave us a chance to add Seoul, Korea. The best airfare and easiest airfare was to fly into Seoul and home from Tokyo. Even when we added airfare from Seoul to Vietnam for our tour and where we meet our ship, it was less than trying to go into Hanoi and home from Tokyo. We will fly from the US to Seoul and then on by plane to Hanoi and Vietnam. The flight from Seoul to Hanoi is included in our package. We have included a hotel and tour of Seoul before you fly to Hanoi. We board our ship in Vietnam.
Vietnam is one of our favorite places in the world. On a scale of 1 to 10, Halong bay is an 11. Hanoi's old town is wonderful to walk through. We will even be visiting the famous Hanoi Hilton where John McCain was in prison.
Our complete package includes all the shore excursions. It also includes a hotel in Tokyo. The best way to visit Japan is by ship. Japan is a very expensive place to live or tour. Hotel and transportation costs are out of sight. Tokyo has often been listed as the most expensive city in the world. With the fantastic price, we received from the ship and doing our own included shore excursions, our tour of Japan is more than affordable.
Our complete package includes all the hotels, buses, guides, transfers and even your airfare in Vietnam.
The Complete Package Price Includes all of the following:
11 Night cruise on Royal Caribbean's Ovation of the Seas inside cabin

$350 in port and ship fees.
$118.01 in ship taxes.

6 hotel nights

One night 4-star hotel Seoul, Korea.
Two nights 4-star hotel Hanoi.
1 night 4-star hotel Hoi Ann.
1 Night 4-star hotel Saigon (Ho Chi Min).
1 Night 4-star hotel Tokyo.

3 airfares

Seoul, Korea to Hanoi.
Hanoi to Da Nang.
Da Nang to Saigon (Ho Chi Min).

14 Days of Shore Excursions and land tours. Includes: buses, guides & entrance fees

Seoul, Korea
Hanoi, Vietnam
Halong Bay, Vietnam (includes a boat ride on Halong Bay)
Hoi An, Vietnam
Ho Chi Min, Vietnam
Da Nang, Vietnam
Nha Trang, Vietnam
Hong Kong, China
Okinawa, Japan
Hiroshima, Japan
Kobe, Japan
Kyoto (Osaka), Japan
Shimizu (Mt. Fuji), Japan
Tokyo, Japan

All transfers in Korea.
All transfers in Vietnam.
All transfers in Hong Kong.
All transfers in Japan.
Dr. S. Michael Wilcox – educator on the ship starting in Hong Kong to Tokyo.
Fun for less Tours staff throughout.
All meals on the ship plus breakfast each day when doing the land tour portion.
Whisper Perfect headset receivers.
Package Price: $4.995
*
*Per person, cash discount price, Does not include airfare into Seoul and home from Tokyo. It does include shore excursions.
Itinerary
Day by Day Itinerary: (The day by day itinerary and hotels are subject to change at any time.)
Day 1: April 21: Fly
Fly from the US to Seoul, Korea.
Day 2: April 22: Seoul Korea
Arrive late afternoon. Transfer to your 4-Star Deluxe Hotel.
Day 3: April 23: Seoul – Hanoi
Full day city tour of Seoul which will include Gyeongbokgung Palace which served as the main place of Joseon Dynasty (1392 to 1910). On the palace grounds, we will visit the National Folk Museum. We then head to Insadong Antique Street which is filled with art galleries, traditional craft stores, antique shops, tea houses and restaurants where you will have some free time. We then head to the airport for our late afternoon flight to Hanoi. When we arrive into Hanoi we will transfer to the Hanoi Pan Pacific 4-Star Deluxe Hotel.
Day 4: April 24: Hanoi – Halong Bay – Hanoi
Today will be a full-day tour to Halong Bay with boat trip including lunch. According to legends, Halong Bay was formed by dragons who used their tails to gouge out valleys and crevices and spat out jewels that turned into islands. This is truly one of the most beautiful places on this earth. On a traditional wooden "junk" (boat) we'll drift through a fairyland of sheer limestone islands that rise from the emerald water. We'll pass by unique rock formations and discover caves in the rocks. At the end of a fantastic day, we will return to our hotel in Hanoi.
Day 5: April 25: Hanoi – Hoi An
This morning will be a full-day tour of Hanoi that will include the mystery and charm of past century's narrow lanes and traditional shophouses on our walking tour. We also include the Ho Chi Minh Memorial Complex, the Temple of Literature and the highlight, the Old Town. The Old Town is best seen on foot. The maze of narrow streets dates back to the 13th century. We will also visit the famous Hanoi Hilton (prison). Early afternoon we will transfer to the airport for our late afternoon flight to Da Nang. Upon arrival, we will journey south past the Marble Mountains and small villages on our way to Hội An where we will overnight at the Le Pavilion Gallery 4-Star Deluxe Hotel.
Day 6: April 26: Hoi An – Ho Chi Min (Saigon)
The quirky mix of Chinese, Japanese, Vietnamese and European influences, makes Hoi An a Photographers paradise. We'll walk through the narrow winding streets of the old town past ochre-hued stone houses, lantern filled shops and colorful fishing boats. One of the most iconic sights is the Japanese Covered Bridge. There are also ancient temples and merchant homes over 200 years old. We will then head to the airport for our late afternoon flight to Ho Chi Min. When we arrive we will transfer to the Novotel Saigon 4-Star Deluxe Hotel.
Day 7: April 27: Ho Chi Min – Royal Caribbean Ship
Early this morning we will head to the Cu Chi Tunnels, an important Vietcong base during the Vietnam war. Stretching over 120 miles, this incredible underground network, dug by hand out of hard laterite, connected command posts, hospitals, shelters and weapons factories. We will also tour Ho Chi Min (Saigon). The tour will include Notre Dame Cathedral, the Central Post Office and the Reunification Palace. In the afternoon we transfer to our Royal Caribbean Cruise ship.
Day 8: April 28: Ship Shore Excursion Nha Trang Vietnam
Shore excursion includes Carn Ranh Bay. We will see the old bridge built by the American Army, and drive around the permitted area because most of the area is still controlled by the navy and army. We will also include a Nha Trang City tour. Visiting the Pagoda temple, which was built in the 8th century, Xom Bang Bridge with a photogenic fishing fleet and then to Long Son Pagoda with the huge statue of Buddha.
Day 9: April 29: Ship
Relaxing Fun Day At Sea.
Day 10: April 30: Ship Shore Excursion Hong Kong
Our shore excursion Hong Kong Tour includes Victoria Peak on Hong Kong Island, a boat ride on old sampans through the harbor of Hong Kong and some time for shopping and exploring markets and harbor areas. We do include a short photo stop at the Hong Kong Temple. Dr. S. Michael Wilcox joins us in Hong Kong. He will be with us and shares his vast knowledge of Japan over the next days.
Day 11: May 1: Ship
Relaxing Fun Day at Sea.
Day 12: May 2: Included Shore Excursion Okinawa Japan
Today we will have a full day tour to Okinawa. Tour includes Shure Castle, Okinawa World, Stroll in Kokusai Dori.
Day 13: May 3: Ship
Relaxing Fun Day at Sea.
Day 14: May 4: Included Shore Excursion Hiroshima Japan
Today is a full-day tour that includes a ferry to Itsukushima Shrine and ferries back, then on to Hiroshima Peace Memorial Park and A-Bomb Dome and the Hiroshima Peace Memorial Museum.
Day 15: May 5: Included Shore Excursion Kobe Japan
Today is a full-day tour that will include Himeji Castle, Kokoen, Nadagiku Sake Brewery, and Rokko Garden Terrace before returning to the ship.
Day 16: May 6: Included Shore Excursion Kyoto (Osaka) Japan
Today is a full-day tour that will include Kiyomizu Temple, Fushimi Inari Shrine and the Arashiyama area.
Day 17: May 7: Included Shore Excursion Shimizu Japan
Our tour includes Oedo Onsen Monogatari Tenkasunpunoyu, Kunozan Toshogu Shrine Nihondaira Ropeway and Kashinoichi Market before returning to the ship.
Day 18: May 8: Ship – Tokyo
This morning we depart our ship in Tokyo Port. Our tour will include Tokyo Sky Tree (up to the first observatory), Asakusa Sensoji Temple, Imperial Palace Plaza (Double Bridges), Shibuya Crossing Street along with a city tour. We will end at the Keio Plaza 4-Star Deluxe Hotel.
Day 19: May 9: Hotel – Flight home
Today you will be transferred by coach from the hotel to the airport for your flight home. You should arrive home on the same day.