Group 3 Italy Tour
with Oberammergau Passion Play
16 day tour - August 7, 2020
Information
This was our first chance to create a tour that includes the very best Italy has to offer. Usually, we have to hurry through Italy so we can get to a Greece cruise. You're going to love Italy like we do, after you experience all that it has to offer. We have slowed down and brought you some very wonderful additions not included in our past tours of Italy.
They include:
The Italian Alps. You will experience some of the most beautiful mountains in the world.
San Marino: Located on a mountain, surrounded completely by Italy, is the tiny country of San Marino.
Cinque Terre on the Italian Riviera. There are 5 villages along the Italian Riviera that are hard to get to without a boat. We have chartered our own boat for the day so we can enjoy the beauty of the sea and also enter the ports to explore.
High-Speed Train ride from Florence to Naples. A 7-hour bus drive is turned into a little over a 2-hour high-speed train ride.
The coastal town of Sorrento. The drive to Sorrento is beautifully fantastic and it will take your breath away. You will also enjoy the old town of Sorrento.
Pompeii- you have all heard about it, on this trip you will be able to explore the old town destroyed by a volcano.
Adding new does not mean we have forgotten the rest of Italy.
Rome: We will enjoy all that Rome has to offer including fantastic fountains, the Colosseum, the Pantheon, Vatican City, the Vatican Museum, The Sistine Chapel, the new Rome Temple and so much more.
Florence: Visit the Academy Museum with the real statue of David, explore the old section of Florence along with its fantastic history.
Pisa: With its leaning tower.
San Gimignano: a wonderful Tuscan old city with ancient tower fortresses.
We have Fun For Less staff and educators that will be taking care of you throughout this special tour and cruise. In addition to local guides, we will have two tour managers that will meet you in Munich and stay with you until you fly home from Rome. The Oberammergau Passion Play is a MAJOR part of this package. Dr. S. Michael Wilcox will join you in Munich, for a few days in between your tours, preparing you for your Passion Play experience. After the Passion play, you will travel with your tour managers to the Italian Alps to Venice. From Venice to Rome you will be joined by Frank Okoren as your Italy educator.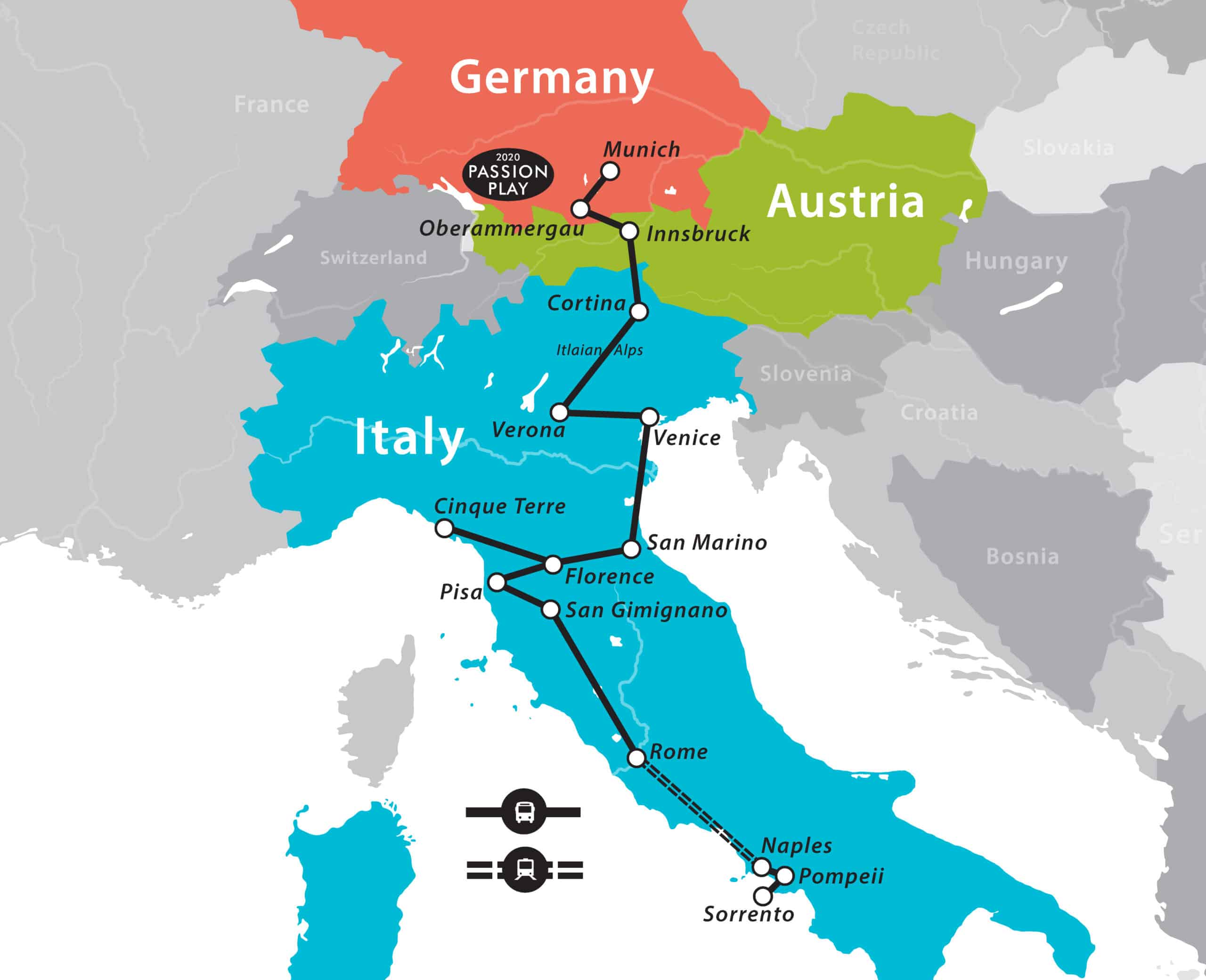 Pricing
Package Price Includes:
The 16 Day Italy Tour Package Includes:
Germany and the Oberammergau Passion Play.

2 nights 4 Star Deluxe Hotel in Munich.
Dr. S. Michael Wilcox Guest educator in Munich for the Passion Play.
2 nights 4 Star Oberammergau Passion Play Hotel.
Priority seating in Category 1 for the Passion Play.
All transfers and buses in Munich and Oberammergau.
Breakfasts in Munich, Breakfast and Dinner in Oberammergau.
Fun For Less Tours Staff.
All tours, entrance fees and guides in Munich and Oberammergau.

Italy and the Italian Alps:

1 night First Class hotel in the Italian Alps.
2 nights 4-Star Deluxe hotel In Venice.
3 nights 4-Star Deluxe hotel in Florence.
1 night 4-Star Deluxe hotel in Naples area.
3 nights 4 Star Deluxe hotel in Rome.
Chartered boat on the Italian Riviera for our visit to Cinque Terre.
All buses, guides, entrance fees, throughout.
Guest Educator from Venice to Rome: Frank Okoren.
All Transfers.
Visit the new Rome Temple and Visitors Center.
Fun For Less Tours Staff.
Package Price: $5,295
*
*Per person cash discount price, based on double occupancy.
Does not include airfare or tips.
ESTIMATED cost of airfares in 2020:
These are estimates only (they could go up or down) - they
will not be available to purchase until 10 months before tour.
(round-trip) SLC to Munich - Rome to SLC: $1,650
Itinerary
This is a partial list, and subject to change as needed to accomplish everything we can in each area we visit. We will have local guides who will make sure we see the very best in the time we have.
Day 1: August 7: Fly to Munich
We depart our home and travel to Munich.
Day 2 & 3: August 8 & 9: Munich
Today and tomorrow we will tour Munich and will also have lectures from Dr. S. Michael Wilcox on the Life of Christ and the Passion Play.
Day 4: August 10: Munich – Oberammergau
This morning we will travel into the German Alps and enjoy the beautiful scenery and do some touring before checking into our 4-star deluxe Passion Play hotel.
Day 5: August 11: Oberammergau
This morning we will tour the Oberammergau area. This afternoon will be the first half of the Passion Play. Then there will be a break for dinner, which is included. After, we will return to the second half of the Passion Play. Late this evening you will return back to your hotel.
Day 6: August 12: Innsbruck – Cortina
Today we will drive through the beautiful German Alps into the Austrian Alps to visit Innsbruck. Here we will visit the Tomb of Emperor Maximilian and other great kings. Then we will drive to the Dolomite Mountains in the Italian Alps and overnight in the village of Cortina area.
Day 7: August 13: Verona – Venice
This morning we will travel to Verona, home of Shakespeare's Romeo and Juliet. This is one of the most picturesque old cities in Europe. After a tour of the old town, you will have time to explore. This evening we will continue to Venice area to overnight at your deluxe hotel.
Day 8: August 14: Venice
We will spend the day touring and exploring Venice.  After our tour, you will have plenty of time to walk the many old streets and bridges found in Venice.  You will also have time to enjoy a gondola boat ride and eat in one of the many quaint sidewalk cafés.  Later today we will return to our hotel.
Day 9: August 15: San Marino – Florence
Today we will drive to the little tiny country of San Marino located in Italy. It is the oldest continuous republic in the world. After we are done touring we will head to Florence.
Day 10: August 16: Florence
We will have a full day to enjoy Florence and all that it has to offer.  We will spend the day visiting the center of the Renaissance, whose liberating ideas helped pave the way for the reformation.  This city is the home to the Medici family, Michelangelo, Leonardo de Vinci and Dante. We will take a guided tour of the old city, visiting such sites as the Piazza del Duomo, including the beautiful Baptistery Doors that inspired Michelangelo.  We will also visit the original statue of David in the Academy Museum.  You will have time to shop in the old streets of Florence and also time to enjoy the many sidewalk cafes before returning to our hotel this evening.
Day 11: August 17: Cinque Terra
Today we will drive to the stunning coastal cities called Cinque Terra. The only way you can access these beautiful fishing villages are by taking a train or a ferry boat from island to island. We believe the best way to visit these cities is by our own private chartered boat. This will be a highlight day. Later this afternoon we will return to our hotel in Florence.
Day 12: August 18: Florence / Pisa / Rome
We will spend the day traveling through the Tuscany Countryside visiting small villages, San Gimignano and Pisa before heading to Rome where we will overnight.
Day 13: August 19: Rome
Today we will visit a separate country, Vatican City.  We will visit St. Peter's Basilica (the largest church in the world), St. Peter's Square, the Vatican Museum, and the Sistine Chapel.
Day 14: August 20: Naples – Sorrento
This morning we will take a high-speed train for approximately an hour to Naples. We will then drive along one of the most beautiful coastlines in the world on our way to the city of Sorrento.  Sorrento is fabled to be home to the sirens who attempted to lure the mythological figure Ulysses onto the rocks.  We also take you to the fascinating city of Pompeii which was buried by Mt Vesuvius in 79AD.   You will be able to walk through the ancient streets that are considered to be the very best example of ancient Roman life.  Pompeii was home to many wealthy ancients who craved a leisure lifestyle.  For this reason, Pompeii is home to many lavish baths, temples and richly decorated homes.  As the ash and pumice stone rained over Pompeii time stood still, preserving life as it was in 79AD. Later we will take the high-speed train back to Rome.
Day 15: August 21: Rome
This morning we will visit the Rome Temple.  We will then visit the magnificent Coliseum and the Trevi Fountain, which has been made famous by many movies including "Three Coins in a Fountain". This evening we will return to the hotel.
Day 16: August 22: Fly home
This morning we will drive to the airport for your flight back to the US and home.  You will arrive home the same day.