Group 3 Rome and Paris Temples
with Oberammergau Passion Play
11 day tour - August 30, 2022
Information
This special tour will allow those that want to visit the Rome Temple and the Paris Temple do a session in both Temples.  We will have two full days in Rome and two full days in Paris. In addition to the few hours you spend at the LDS temples, there will be time to visit the most important tourist sites in Rome and Paris.
Here is a little information on the Rome Temple:
The resplendent interior of the Rome Italy Temple features beautiful Italian-quarried Perlato Svevo marble on surfaces throughout the building, including floors, walls, and countertops. Magnificent floor work is featured in the baptistery and grand foyer, which reflects Michelangelo's design at the Piazza del Campidoglio on top of Rome's Capitoline Hill. The pattern is also seen in the sculpted off-white carpets in the Celestial and sealing rooms. The majesty of the temple is further reflected in the choice of artwork, stained glass, crown moldings, and other furnishings and finishes. The complex includes a wonderful Visitors Center that will include reproductions of Bertel Thorvaldsen's Christus statue and the twelve apostles. The originals were sculpted in Rome and transported to Copenhagen in 1838 to stand in the National Cathedral of Denmark.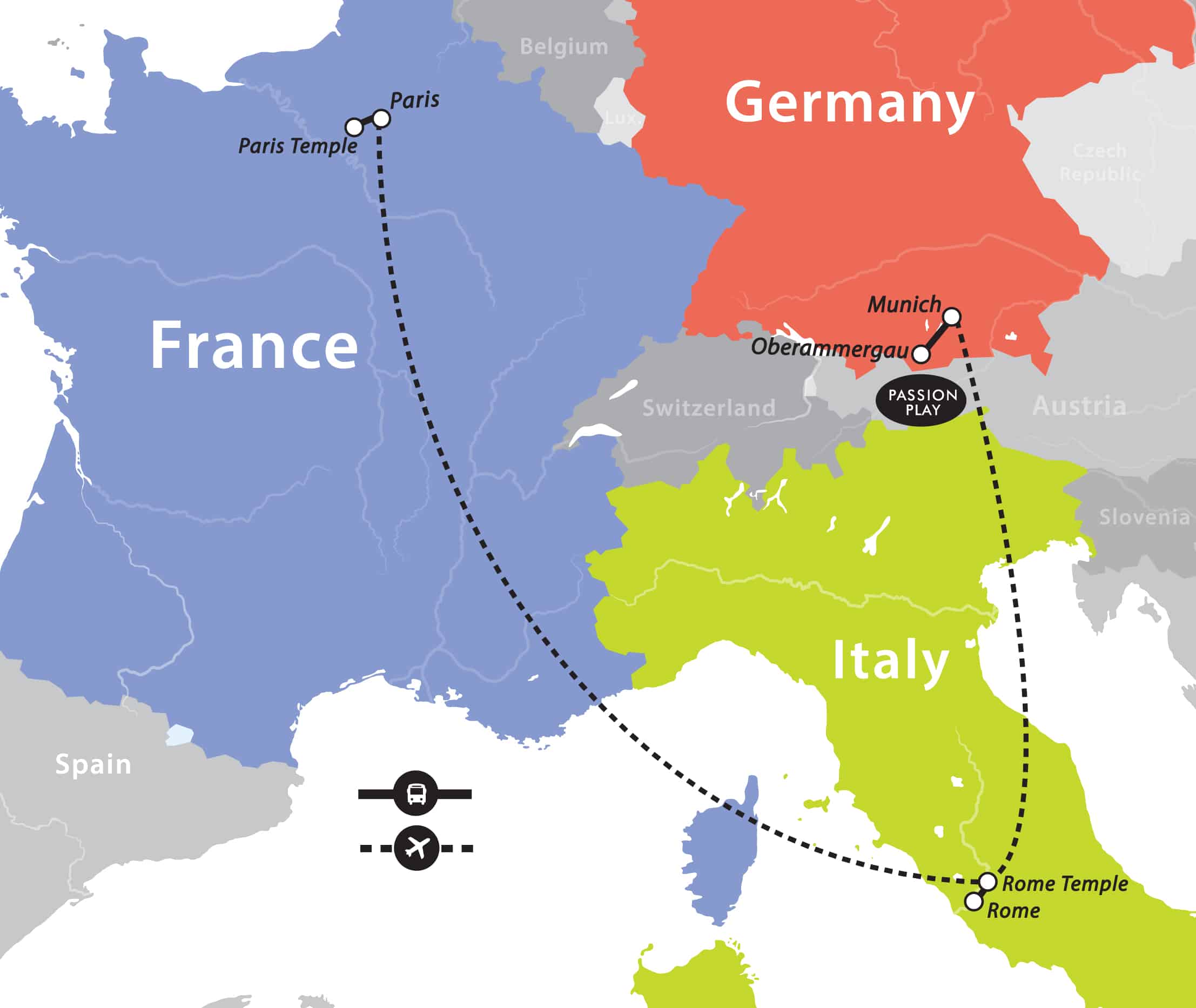 Pricing
Package Price Includes:
Included in Our Passion Play Package:
3 Nights 4-Star Deluxe Hotel in Rome.
2 nights 4-Star Deluxe Hotel in Paris.
Transfers to and from both Rome and Paris LDS Temple.
Tours, buses, guides, entrance fees to the Vatican Museum, the Colosseum and so much more.
Tours, buses, guides, entrance fees to the Louvre, the Eiffel Tower and Versailles.
Transfers between hotels and airports.
Guest Educator: TBA
Fun For Less Tours Staff.
Included in Germany and the Passion Play:
2 nights 4 Star Deluxe Hotel in Munich.
2 nights 4 Star Oberammergau Passion Play Hotel.
Priority seating in Category 1 for the Passion Play.
Dinner in Oberammergau.
Fun For Less Tours Staff.
All buses, tours, entrance fees and guides in Munich and Oberammergau.
Package Price: $4,595
*
*Per person cash discount price, based on double occupancy.
Does not include airfares or tips.

Itinerary
This is a partial list, and subject to change as needed to accomplish everything we can in each area we visit. We will have local guides who will make sure we see the very best in the time we have.
Day 1: August 30: Fly to Paris
We depart our home and travel to Paris.
Day 2: August 31: Paris
After our arrival into Paris, we will visit the Eiffel Tower. Then we will go to our hotel.
Day 3: September 1: Paris
This morning we will drive to Versailles, the opulent palace of the Kings of France. We will tour the inside of the palace. This afternoon we will visit the Paris Temple, where you will have time to do a session. Then we will return to our hotel.
Day 4: September 2: Paris – Rome
Today we will visit the Louvre Museum and its Mona Lisa. This evening we will fly to Rome.  (Important Note: See pricing – The flight from Paris to Rome is not included in the tour price).
Day 5: September 3: Rome
Today we will visit a separate country, Vatican City.  We will visit St. Peter's Basilica (the largest church in the world), St. Peter's Square, the Vatican Museum, and the Sistine Chapel. Later we visit the Rome Temple, where you will have time to do a session before heading back to our deluxe hotel.
Day 6: September 4: Rome 
This morning we will visit the Trevi Fountain, which has been made famous by many movies including "Three Coins in a Fountain". Later we will visit the magnificent Colosseum. Then return to our hotel.
Day 7: September 5: Rome – Oberammergau
Today we will fly to Munich. (Important Note: See pricing – The flight from Rome to Munich is not included in the tour price). Upon arrival, we will drive the 2 hours to Oberammergau. Later this afternoon we will check into our 4-star deluxe Passion Play Hotel. NOTE: Our Passion Play Hotels are in the Oberammergau area. They can be in the Oberammergau Village or other villages nearby. For those staying in the villages close by, from what we have been told, they will be running shuttle buses from the different villages to the Oberammergau Village and back.
Day 8: September 6: Oberammergau
This morning you can take one of the shuttle buses into Oberammergau. This afternoon will be the first half of the Passion Play. Then there will be a break for dinner, which is included. After, you will return for the second half of the Passion Play. Late this evening you will return back to your hotel.
Day 9: September 7: Oberammergau – Munich
This morning we will check out of our hotel and drive to Munich. We plan, if possible, to visit Neuschwanstein Castle, which was the inspiration for Disney's "Sleeping Beauty Castle." Then we will continue to Munich.
Day 10: September 8: Munich
Today we will do a city tour of Munich. Overnight in Munich.
Day 11: September 9: Fly home
This morning we will head to the airport for your flight back to the US and home.  You will arrive home on the same day.