2022 Africa Train Tour
Experience 6 African Countries
20 day train tour - September 26, 2022
Information
Very Important Note
In 2019 we offered this luxurious train through two countries South Africa and Namibia, along with an extension to a third county. It sold out without ever getting into our mailers. We believe this is going to be the same with this special luxury train itinerary that includes 6 countries. Our luxury private train holds a max of 70 passengers per train.
Experience 6 African Countries
Botswana Zimbabwe South Africa Mozambique Swaziland and Lesotho
For the owners of Fun For Less Tours, OUR China Tour is the #1 Tour in the world. To them, there is a tie for second. Thailand, Cambodia, Burma Tour is tied with our Africa Safari Tour as the second-best tour in the world. Now that we are offering our Africa Safari Tour by luxurious train and have added additional countries – our Africa Safari Tour has moved up to #2 on our owners' list and might take over #1 of best tours in the world.
Our 2022 African Safari Train & Tour will visit 6 countries: Botswana, Zimbabwe, Swaziland, Mozambique, Lesotho, and South Africa.
In July of 2018 Carol and Jim Tyndall, owners of Fun For Less Tours, took a train from Johannesburg, South Africa to Windhoek, Namibia. They wanted to experience the quality of trains in Africa. There were three things they were impressed with:
The open lounge areas on the train do not exist on the private trains they charter in Siberia and for the Silk Road. There are two lounge cars where guests can gather with large windows to lookout. They also have an area where you can step outside onto an open-air deck to take pictures. Impressive is the best word to describe the luxury train.
Most important, every cabin had its own private bathroom including a toilet and shower. On our Siberia and Silk Road Trains, that we have chartered, the majority of the cabins did not have a private bathroom attached to their cabin. They had public toilets and showers in each car and only a few cabins had attached private bathrooms. On our Africa luxury trains EVERY cabin has an attached private bathroom.
Fantastic pricing: Our chartered Silk Road Trains and our Siberia Trains, did offer some cabins with a private bathroom attached, for a substantial amount of money. The bathrooms on the private train through Siberia reached upwards of $15,000 to $18,000 per person. Yes, that was per person. Our Africa train is more luxurious, includes lookout lounge cars, includes a private bathroom with each cabin, includes all safaris, some airfares and everything our train and tour includes is under $9,500 for the Elephant category cabins. This really is a great deal.
We plan to include in our special designed Train Tour Safari the following:
Victoria Falls, the largest waterfall on earth. We will spend two nights in a safari lodge near the falls.
Travel into Botswana and a game safari in the Chobe National Park.
Boatride on the Zambezi river.
Luxury train travels from Victoria Falls through Zimbabwe, Mozambique, South Africa, and Swaziland.
Hwange National Park game safari.
Matobo National Park: A UNESCO World Heritage Site. Beautiful natural granite sculptures with intricate rock paintings thousands of years old. You will stop at the grave of Cecil Rhodes to take in the view. In the afternoon tour Zimbabwe's second-largest city, Bulawayo.
Tour of the Great Zimbabwe: Ruins that reach above the forest trees, walls 36 feet high, built from thousands of interlocking granite blocks. This ancient city gave modern Zimbabwe its name.
Kapama Game Reserve: All of Africa's Big Five live here.
The legendary Drakensberg escarpment dropping over 3,000 feet to green plains. Exquisite natural beauty awaits at the Blyde River Canyon.
Safari in Kruger National Park: We leave our train and overnight in the middle of Kruger Park in a lodge. Two days of Safari in Kruger Park.
Maputo and the shores of the Indian Ocean.
A tour of the Kingdom of Swaziland.
After leaving our train in Swaziland we drive to visit the Zulu tribe, Durban, Lesotho, and a flight to Cape Town.
Lesotho: Another huge highlight, as we travel from sea level in four-wheel-drive vehicles through canyons covered in moss, to the tiny country of Lesotho at 11,000 feet.
Fly to Cape Town at the bottom of Africa for tours and history.
We will be chartering the whole train. It is a luxury train with every cabin having its own private bathroom, toilet, and shower. The total number we can take is only 70. We don't believe it will make it to our normal mailers after we contact all those that are on the "First to Know" list If you have interest in this special unique tour please call our office.
Cabin Categories
There are two cabin categories; both categories include a private bathroom and shower. One is called the Elephant Category and the other the Leopard Category.
Here is the difference between the two Cabin Categories:
Elephant Cabins: Has two lower beds or one large bed. It is very important to know there are no sitting chairs or couches in the Elephant Cabins. The only place to sit is on your bed. It is important to remember that this train has two lounge cars with plenty of seating. So you can always go to the lounge car to find a couch or chair.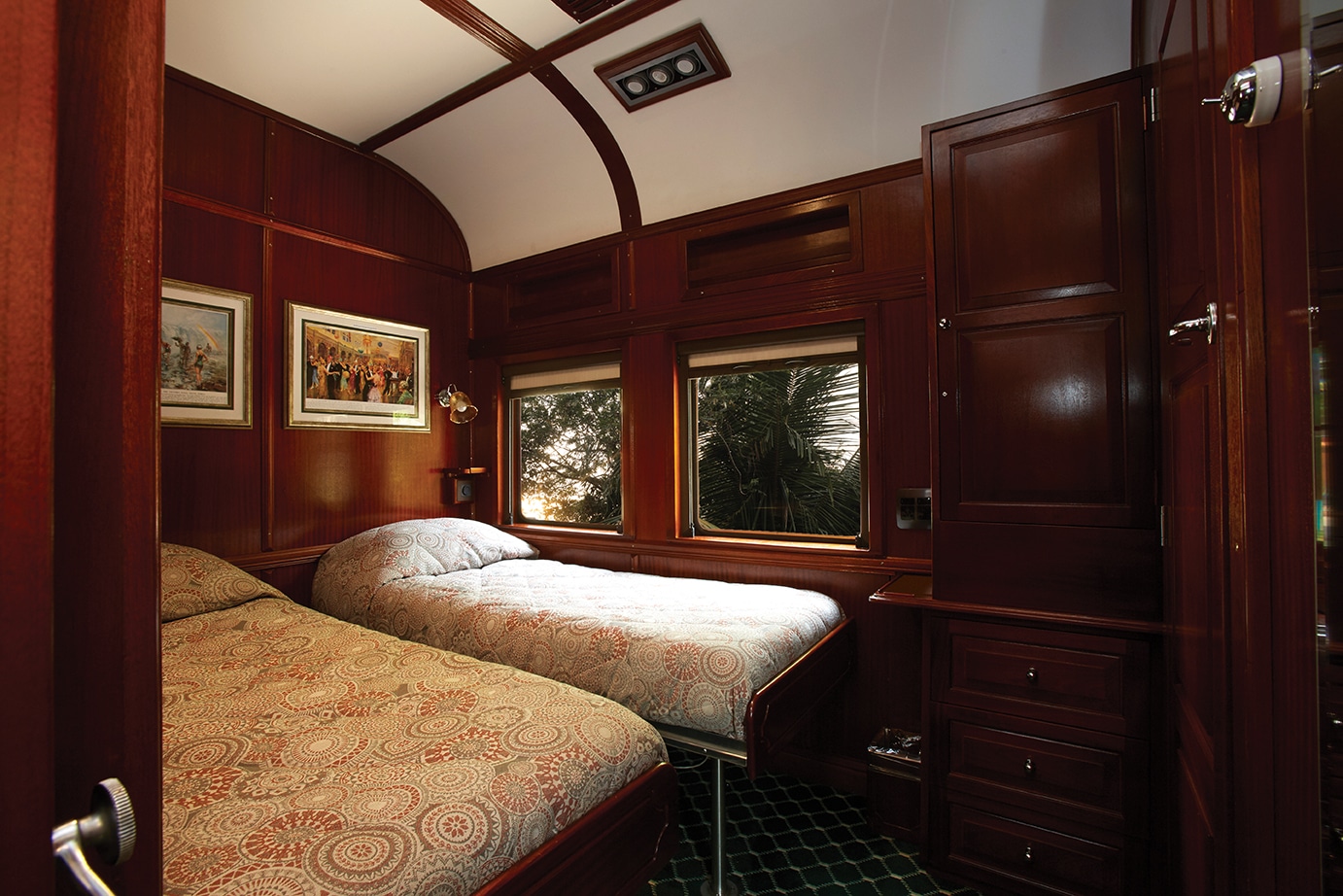 Leopard Cabins: They are substantially larger with a sitting area and desk.
Pricing
Package Price Includes:
Important note: We are limited to the number of Elephant Cabins and Leopard Cabins. The only way we can assure you get the cabin category, you would like, is if you call us ASAP and place your order. Cabins will be on a first-come first-reserved basis.
Our 20 day Special Package Price Includes:
Luxurious Train in Elephant Category cabin with private attached Bathroom.
Most days will include Breakfast, Lunch, and Dinner, a few will be breakfast only.
All safaris and tours off of the train.
A flight between Durban and Cape Town.
Special safari lodges.
Deluxe hotel in Durban, South Africa.
Deluxe hotel in Cape Town, South Africa.
Deluxe hotel in St. Lucia, South Africa.
Tour in Botswana and do a safari in Chobe National Game Reserve.
Boat ride in St. Lucia for hippos and crocodiles.
Boat ride in the Cape Town area to see seals.
All tours during our land tour portion of the trip in South Africa & Lesotho.
Special Guest Educators: Dr. S. Michael Wilcox.
Fun For Less Tour Managers throughout the trip.
All buses, guides, tours, entrance fees throughout the tour.
Individual headset receivers.
Option to upgrade to the much larger Leopard Category cabins.
Option to purchase our group airfare to and from our train tour.
Package Price: $9,295
*
**Per person cash discount price, based on double occupancy. Does not include airfare, tips.
Itinerary
This is a partial list, and subject to change as needed to accomplish everything we can in each area we visit. We will have local guides who will make sure we see the very best in the time we have.
Day 1 & 2. September 26 & 27: Travel to Zimbabwe
We do not know the flight schedules as they have not become available yet. We should know our routing around March or April of 2022.
Day 3. September 28: Zimbabwe
Today you arrive into Zimbabwe and transfer to your safari lodge. You enjoy views of the lodge's on-site water hole, where many wild animals come to stave off their thirst, and the magnificent panorama of the Zambezi National Park from your private balcony.
Day 4. September 29: Botswana
This morning early we travel into Botswana to Chobe National Park for our Morning game Drive. In the afternoon we will return in time to take the Zambezi River by boat. With luck, your day will be filled with Elephants, Lions, and hippos up close. Your evening ends with a welcome dinner—a traditional Southern African barbecue, or braai—around a flickering campfire. Overnight: Victoria Safari Lodge (D)
Day 5. September 30: Victoria Falls, the Smoke that Thunders
After breakfast, you enjoy a visit to the one-of-a-kind Victoria Falls, known locally as "the Smoke that Thunders," one of the largest waterfalls in the world. Numerous vantage points provide stunning views of the waters of the Zambezi River pouring into the canyon below. A short walk takes you to the Victoria Falls Hotel, where you can enjoy amazing views of the Victoria Falls Bridge. In the afternoon, the crew of the African Explorer private train welcomes you on board. Overnight: Onboard (BD)
Day 6. October 1: Hwange National Park, Zimbabwe's Largest Game Reserve
After an early breakfast, you go on a safari through Hwange National Park, Zimbabwe's largest game reserve. With a bit of luck, you might encounter giraffes and lions and even the occasional wild dog. Here you can continue your safari in an open-top vehicle accompanied by a professional ranger. In the afternoon, you head back to your private train. Overnight: Onboard (BD)
Day 7. October 2: Matobo National Park and Cecil Rhodes' Grave
In the morning, you enjoy a walk through Bulawayo, Zimbabwe's second-largest city. You can also visit the Natural History Museum or the Railway Museum. Later you head to Matobo National Park, where you can visit the grave of Cecil Rhodes, the British imperialist and politician who founded the territory of Rhodesia in today's Zimbabwe. In the evening, you enjoy dinner on board your private train. Overnight: Onboard (BD)
Day 8. October 3: Great Zimbabwe
The destination of today's bus excursion is the stunning, thousand-year-old ruined city of Great Zimbabwe, Africa's largest pre-colonial structure south of the Egyptian pyramids. In Rutenga, you board your private train to continue your journey. Overnight: Onboard (BD)
Day 9. October 4: Realm of the Rain Queen
On its way through the Limpopo Province, your African Explorer private train passes the Soutpansberg mountains and the lands of South Africa's Rain Queen. Later you enjoy a biltong (traditional beef jerky) tasting. Overnight: Onboard (BLD)
Day 10. October 5: Kapama Private Game Reserve
In the morning, you leave the African Explorer private train for a safari through the Kapama Private Game Reserve. As part of a wildlife resettlement program, many animals were brought here for conservation, including the famous Big Five game animals: the lion, leopard, rhinoceros, elephant, and Cape buffalo. Afterward, you can see rare wild dogs and cheetahs on a visit to the Hoedspruit Endangered Species Centre. Lunch is served on board the African Explorer. Overnight: Onboard (BLD)
Day 11. October 6: the Drakensberg in the Great Escarpment
Today you enjoy a scenic bus ride on South Africa's Panorama Route, which includes the gorgeous Drakensberg, the highest region of the Great Escarpment, as well as Blyde River Canyon. Afterward, you enjoy a safari in the world-famous Kruger National Park. In the afternoon, you leave the park and head to your safari lodge where you will spend the night. Here you can safely leave your larger luggage on the train in your compartment. At dusk, you head out for an exciting night safari in open-top vehicles, once again on the tracks of wildlife. You end the night in style with a dinner under the starry African sky. Overnight: Pestana Kruger Lodge (BD)
Day 12. October 7: Kruger National Park
In the morning, you head out for a full-day safari in open-top vehicles through Kruger National Park. After lunch, the safari continues, and you return to your train in the late afternoon. Overnight: Onboard (BLD)
Day 13. October 8: Maputo
Overnight, your train had arrived in Maputo. You discover the Mozambican capital on an informative city tour. For lunch, you enjoy delicious fish and seafood on the waterfront. In the late afternoon, you head back to your train and continue on. Overnight: Onboard (BLD)
Day 14. October 9: Swaziland – St. Lucia
After departing our train, we will drive through Swaziland to the border between Swaziland and South Africa. After our border crossing, we will continue our drive to St. Lucia South Africa to overnight.
Day 15. October 10: St. Lucia – Zulu Tribe – Durban
This morning we will take a scenic boat safari to look for Hippos and crocodiles. After we head to our visit with the tribe, where we will enjoy a cultural tour and dancing show put on by the Zulu's. We then continue our drive to Durban to overnight.
Day 16. October 11: Durban – Lesotho – Durban
Today is a wonderful highlight day. We drive through what looks like the Grand Canyon, up steep unpaved roads going from just above sea level to 11,000 feet. At the top, we will be in the small country of Lesotho. The drive is stunning and the visit is something few tourists have ever done. At the end of the day, we return back to Durban.
Day 17, 18, 19. October 12, 13 & 14: Durban – Cape Town – fly home
Today your journey begins by visiting Cape Town one of the most beautiful cities in the world. We will spend the next three days around the Cape Town area. Your tour will include visits to Table Mountain (if weather permits), Hout Bay boat trip to Seal Island, Peninsula Tour to Cape Point, and Cape of Good Hope (one of the most southern points in Africa). We will also spend time visiting a local penguin colony and more. On day 19 October 14 early evening, we depart Cape Town for our flight back to the US.
Day 20. October 15: US – Home
This morning we arrive back into the US where we will board our flights back to your home.